10/31/2023 - 09:38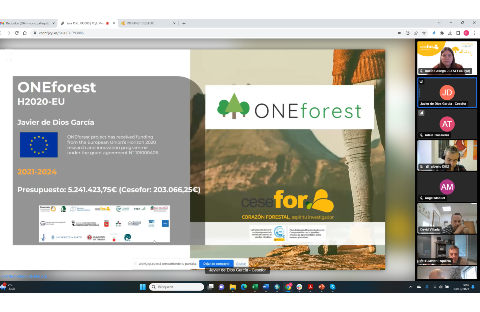 ONEforest Partners Forge Collaborative Ties with Castilla y León Administration to Drive Forestry Innovations
In ONEforest, we recognize the paramount importance of sharing experiences and knowledge with various stakeholders, including governmental administrations, fellow projects, and initiatives. Our partners seize every opportunity to foster the exchange of valuable insights and innovations cultivated through ONEforest's endeavors.
In a recent action, CESEFOR engaged in a virtual meeting with representatives of the Castilla y León Administration. The objective was to introduce and discuss the forestry projects currently in progress, shedding light on the transformative innovations and societal impacts anticipated with projects like ONEforest, LIFE Soria Forest Adapt, and LIFE Alnus Taejo.
The meeting was organized by the Heads of Forestry-related departments within the Castilla y León Administration. Each presentation made during the session was followed by an evaluation of potential synergies that could be harnessed for more effective forestry policy implementation.
One particular area of focus was the keen interest expressed by Ángel Manuel Sánchez Martin, Head of the Forest Fires Department in Castilla y León. He sought detailed insights into the vulnerability mapping for forest fires within the region, along with the fire propagation index for MUP72 in Soria. These insights will play a pivotal role in identifying high-priority areas for preventing forest fires in the region. Subsequent meetings with key stakeholders, including Javier de Dios and Rocío Gallego (CESEFOR), are being planned to explore the implementation of preventative measures. The specifics of this forthcoming meeting will be defined in the days to come.
Similar enthusiasm was echoed by Javier Ezquerra, who expressed a vested interest in the Vegetation Condition Index Maps. These maps serve to identify areas in the region that have been notably affected by drought conditions in recent years.
This collaborative effort between CESEFOR and the Castilla y León Administration signifies a commitment to advancing forestry innovations and sustainable practices, ultimately contributing to the well-being of the region and its natural resources. It exemplifies the spirit of partnership that drives ONEforest's mission forward.