09/01/2023 - 08:54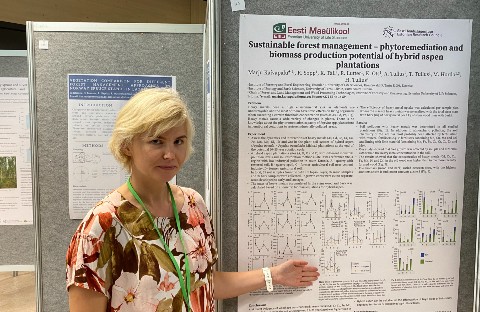 Poster Presentations at the IBFRA Conference
Our esteemed colleagues from the Estonian University of Life Sciences made a significant impact at the recent IBFRA conference (The International Boreal Forest Research Association) held in Helsinki from August 28 to 31. During this event, scientists and PhD students showcased their research through four compelling poster presentations in the exhibition area. These presentations were as follows:
1. Presented by Marju Kaivapalu, a PhD student, the first poster explored the topic of "Sustainable Forest Management: Phytoremediation and Biomass Production Potential of Hybrid Aspen Plantations."
2. Kristjan Täll, another PhD student, delved into "Productivity of Norway Spruce and Silver Birch in Monocultures and Mixtures on Abandoned Agricultural Land."
3. Reeno Sopp, also a PhD student, scrutinized the "Competition Effect on Periodic Annual Increment in Middle-Aged Betula Pendula Plantations."
4. Finally, Reimo Lutter presented the findings on "The Effect of Shelterwood Method and Plant Stock Type on Growth and Foliar Nutritional Status of Pine Regeneration."
Throughout the conference week, attendees had the privilege of experiencing enlightening keynote speeches, engaging parallel sessions that covered various sub-themes such as decision support tools and sustainable forestry solutions, understanding the linkages between ecosystem processes and management, data acquisition to knowledge creation, gameful forest interaction, and the science-policy interface. These diverse sessions provided valuable insights and fostered collaborative networking opportunities for all participants.
The boreal forest, the second-largest terrestrial biome on Earth, is currently undergoing rapid environmental changes, with unprecedented shifts driven by changing climates. These shifts are manifesting in increased disturbance regimes, including wildfires and insect outbreaks. Furthermore, many boreal ecosystems are transitioning to new ecological states, thereby affecting the people who rely on these ecosystems for their livelihoods, cultural practices, economic development, and even global climate stability. The discussions and research presented at the IBFRA conference play a vital role in addressing these pressing challenges and ensuring the sustainable management and conservation of the boreal forest for future generations.