05/09/2023 - 12:07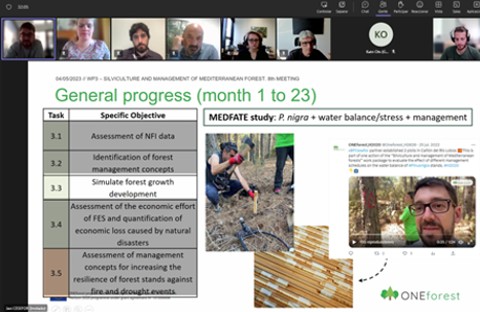 Significant Advances Made in the Mediterranean Pilot 
The ONEforest team dedicated to "Silviculture and management of Mediterranean forests" recently conducted its 8th formal meeting to discuss the overall progress of tasks and deliverables, as well as the work plan for the upcoming weeks.
The project is progressing well, with partners successfully establishing silvicultural prescriptions for the four alternative management strategies corresponding to the four typologies of Mediterranean forests. Additionally, forest growth simulations have been carried out using data from the 3rd Spanish National Forest Inventory and the Formes simulator, allowing for an evaluation of the selected management strategies' effects. Currently, the partners are actively collaborating with other teams involved in different working packages within ONEforest to harmonize approaches for calculating forestry and ecological indicators associated with each management strategy. These indicators will ultimately contribute to the development of the Multi-Criteria Decision Support System (MCDSS).
Simultaneously, the Mediterranean team is internally engaged in various deliverables and joint studies. Their focus is to compile and review experiences and literature on Mediterranean pines and different management strategies related to these forests. The aim is to gain a better understanding of which silvicultural practices are suitable for mitigating drought and forest fires. One of the ongoing joint studies, known as the "Medfate study," has recently completed the collection, compilation, and analysis of dasometric, soil, and dendrochronological data from Pinus nigra stands in Soria, Catalonia, Tuscany, and Slovenia. The study aims to examine the impact of different management strategies on the water balance. The partners are nearing completion of most of the indicators' calculations and are currently focusing on the simulations for the Medfate study.
Stay tuned for more exciting results!