09/08/2023 - 18:38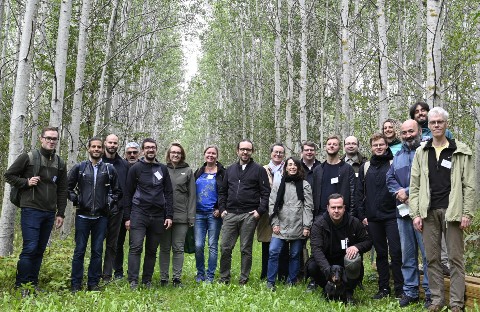 Exploring the Hemiboreal Forest Region in Estonia
From September 5th to 6th, the ONEforest consortium convened for its General Assembly, a gathering brimming with insights and collaborations, held in the picturesque city of Tartu, Estonia. This event was hosted by the Estonian University of Life Sciences.
The first day of the assembly was marked by a series of dynamic workshops, where we collectively crafted forest governance scenarios and initiated the formulation of crucial policy recommendations. Our efforts were focused on various key areas, including Forest Management, Wood Production, Forest Operations, Assessment of Policy, and Stakeholder Demands, all bolstered by a comprehensive Multi-criteria Decision Support framework.
In the afternoon, the consortium embarked on a captivating field trip to the Järvselja Training & Experimental Forest Centre, nestled within the Hemiboreal forest region of our Case Studies. This venerable center, established in 1921, skillfully manages an expansive 10,553 hectares of land, enveloping a lush 6,626 hectares of flourishing forests. Our adventure led us through an array of remarkable sites, each showcasing the marvels of this unique ecosystem.
We delved into the Järvselja shelterwood experiment site, where a fascinating free air humidity manipulation experiment is underway. We explored the intricacies of silvicultural methods within an aspen stand, marveled at the serene beauty of a mature mixed forest oak stand, and immersed ourselves in the natural wonders of the Järvselja Nature Protection Area and an old-growth forest. The highlight of our excursion was the awe-inspiring presence of the majestic King's Pine, leaving an indelible impression on us all.
On the second day, consortium partners rigorously tested the preliminary version of our Multi-Criteria Decision Support System. This phase was instrumental in identifying and rectifying any glitches while suggesting potential enhancements for a robust system.
Concluding our assembly, partners engaged in discussions regarding the next steps in our journey. The prospect of a grand culminating event, where we will share our results and knowledge with stakeholders, as well as with related initiatives and projects, was presented as one of the most significant milestones on our horizon. Stay tuned!